In a joint venture with Pan Am Railways, Norfolk Southern has provided capital and track maintenance equipment to rehabilitate Pan Am's western main line from Mohawk Yard east to Ayer, MA, north of Boston.  The joint venture, dubbed Pan Am Southern, allows Norfolk Southern to compete with CSX's Boston Line for freight tonnage into post-Conrail New England. With the recent track upgrades, Pan Am's mainline (the former western end of the Boston & Maine Railroad) now sees 8-10 freight trains per day on average, in addition to multiple "extra" oil, coal, and grain run-through unit trains from the west. The extra traffic has made Pan Am power-short, and they are filling in with leasers and run-through power.  The lead unit on this train, NS 3491 is one of ten six-axle NS locomotives currently on long-term lease to Pan Am – the three trailing units all carry MEC (Maine Central) reporting marks as well as three different paint liveries.  Units 2 and 4 will eventually receive the Pan Am blue and white paint scheme that can be seen on the third unit in this lashup.
The Pan Am globe logo on the third unit is the exact same one that was once used by Pan Am World Airways.  The Pan Am Airways logo was purchased by the railroad's chief owner/partner Timothy Mellon as part of the airline's bankruptcy/liquidation proceedings.  (Mr. Mellon is also an airplane enthusiast.) The railroad's former name, Guilford Rail System was dropped in favor of the current Pan Am moniker, and the former airlines' corporate logo now lives on, gracing the locomotives of a regional railroad.
In this classic, rural New England photo we see Pan Am eastbound daily manifest freight MOED (MOhawk yard to East Deerfield yard) passing the Church Street grade crossing in Pownal, Vermont.  The train originated in Mohawk Yard (property of CP/ Delaware & Hudson) where Pan Am interchanges with both CP and Norfolk Southern.  (Norfolk Southern uses trackage rights over the D&H from NS' Southern Tier mainline in Binghampton, NY to get up to Mohawk yard, near Schenectady). In these times of fierce competition, it seems that these two railroads have found an enterprising solution to benefit them both, and their customers, to ensure success in the 21st century.
Image recorded on September 7, 2013 by Bob Krug.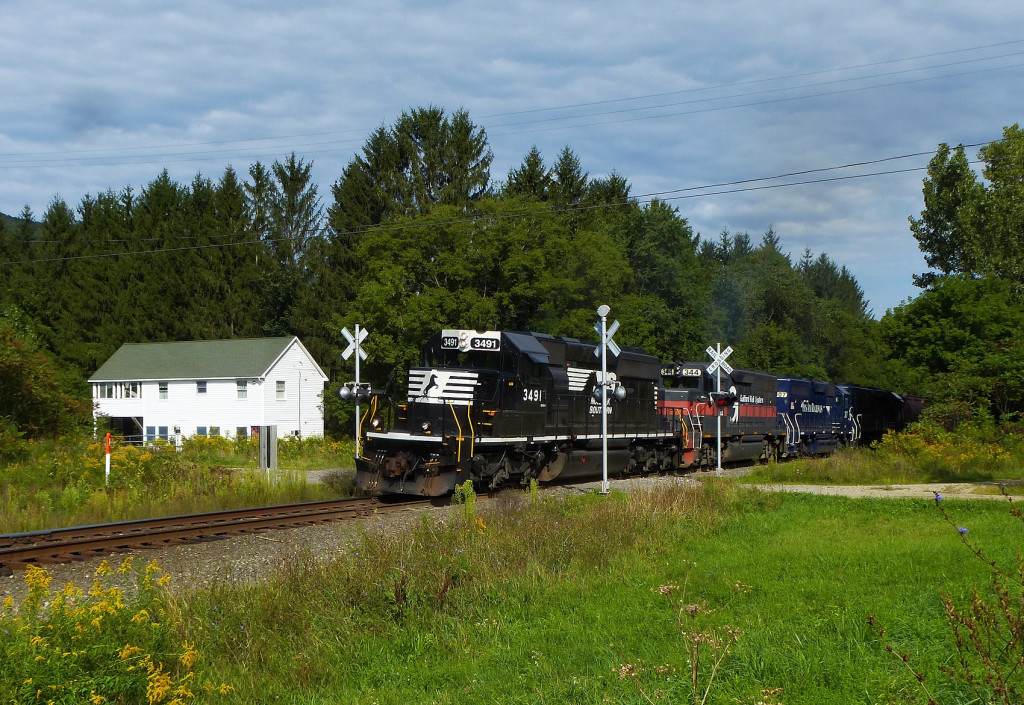 Click on the image to display it at a larger size. Use your browsers Back button to return to this page