Unsure of whether to focus their attention on the photographer, or the EMD diesel-electric locomotive bearing down upon them, several deer are startled by the sudden flurry of activity around them in a truly wonderful image of rural railroading.
As you can tell by the snow covered rails, this line, the former Central Railroad of New Jersey Southern Division main line, does not see much activity any more. The line stretches from the NJ Transit North Jersey Coast line in Red Bank, NJ, and makes its way in a southwesterly direction to the current southern terminus in Lakehurst, and was once an important through route for the CNJ, connecting northern and extreme southern New Jersey.
Here, at sunset on a chilly late winter afternoon, Conrail Shared Assets Operations symbol SA-31 brings its dozen or so cars down the Southern Secondary on its weekly mission from Browns Yard in Sayreville, NJ, to the handful of customers in Farmingdale and Lakewood, NJ.  With the slow speeds on this line, CSX GP40-2 4431 (ex-CR 3356, blt 3/79) is no threat to the local wildlife, and these deer will safely disappear into the woods surrounding Farmingdale, NJ, before the crew reaches them.
Image recorded by Anthony Paci on February 19, 2010.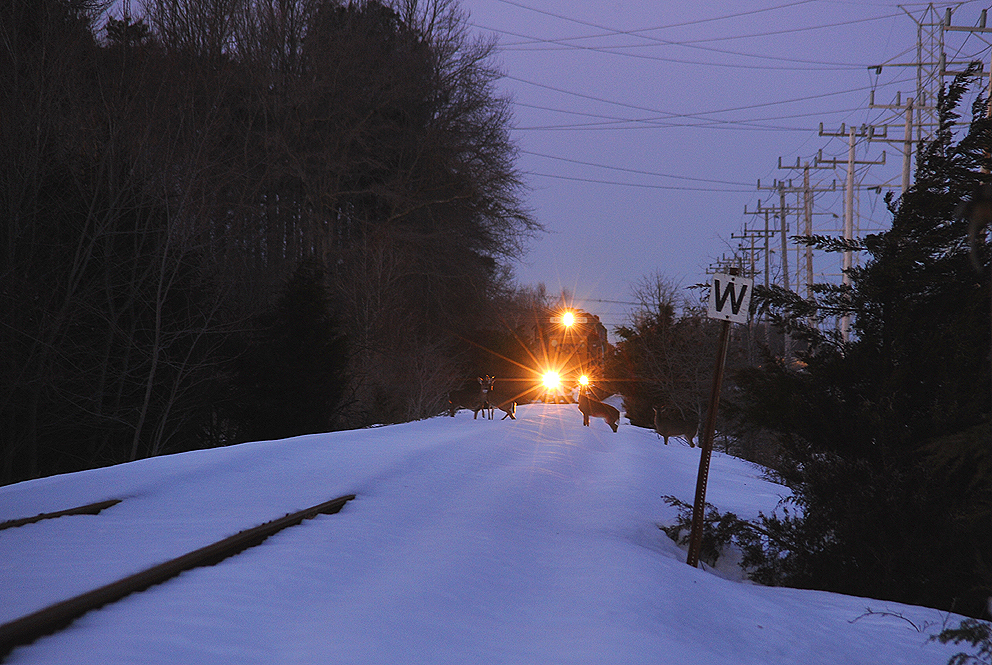 Click on the image to display it at a larger size. Use your browser's Back button to return to this page.