Well, where to begin? The train is not unusual, as there are daily ethanol trains arriving in the central New Jersey area; in fact, sometimes two per day for the refineries.  What 'is' special about this photo is the lead unit, Canadian National C40-8M 2444, one of only 55 built for CN, and one of only 84 ever constructed.  In 1990, General Electric was commissioned to build a 'cold weather' version of its popular C40-8 locomotive by 3 Canadian roads, and the 'cowl body' Dash 8 was born. Due to the extreme winter weather in the Canadian provinces, the full body locos were designed for performance and crew issues in the cold climates north of the border.  The other owners include BC Rail (26 units), and Quebec, North Shore & Labrador (3 units).  Canadian National units are not completely foreign to NJ, but they are few and far between, and to see one on the east coast is enough to bring one trackside.
In this scene, we find Port Reading Yard-based Conrail Shared Assets Operations crew PR-8, pulling the empties from the storage facility and travelling just a mile ahead for staging, to await a CSX road crew to board. Shortly, this train will become CSX symbol K635-28, and head up the CSX River Line towards Selkirk, NY, for points west.  CN 2444 (blt 12/92) and CSX 163 (AC44CW, blt 5/96)  will easily handle the 80 or so tank cars up alongside the Hudson River, and 2444 will have hopefully enjoyed her stay as a very special guest in the Garden State.
Image recorded March 28, 2013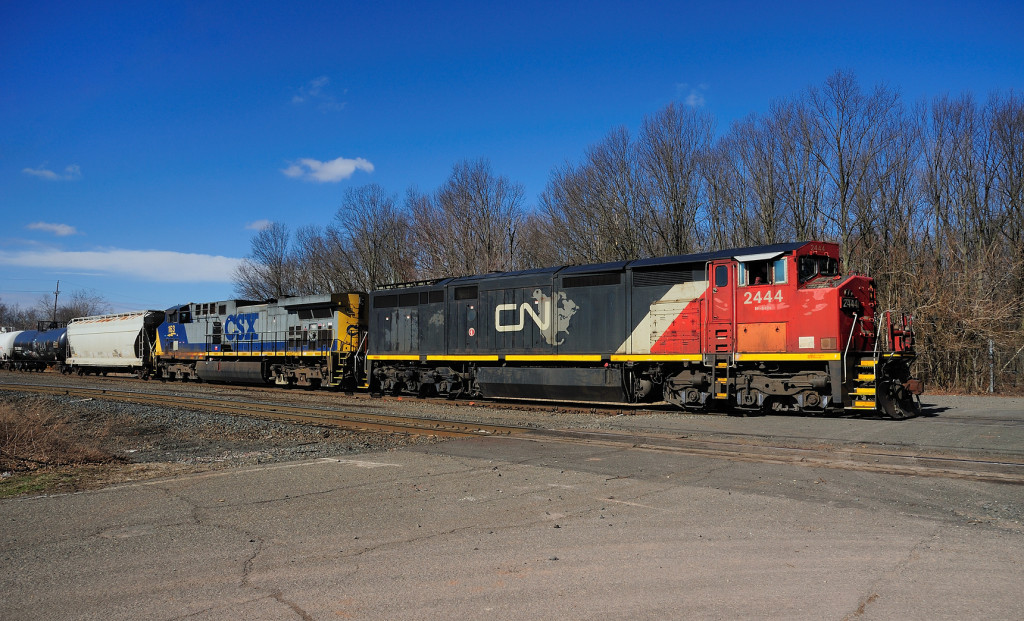 Click on the image to display it at a larger size. Use your browsers Back button to return to this page.