Railroads have played a considerable role in the history of this country, especially in the Northeast and New England regions of the US, where the railroads initially flourished with over 6,300 miles of rail laid by 1850. One of the early roads was the Stony Brook Railroad, a shortline in Massachusetts, originally built from North Chelmsford to Ayer, which began operations in 1848. This line, which eventually became part of an efficient route designed to bypass the congestion of the Boston area, was absorbed into the Boston & Maine system, and in June of 1983 the B&M was one of the properties incorporated into the new Guilford Rail System. In 2006, Guilford became Pan Am Railways, and the new paint scheme reflects a renaissance of sorts for a once-beleaguered rail system.
In a classic New England winter scene along the 'Stony Brook Line' in Westford, we find Pan Am Railways train EDPO (East Deerfield, MA – South Portland, ME), a daily road freight running between the two largest yards on the Pan Am system. Much to the delight of railfans, this road rosters many older, yet very dependable EMD locomotives; todays train features MEC 378, a high-hood GP40 built in April of 1966 for the Norfolk & Western Railway (and repainted into the beautiful dark blue scheme in late 2010), and two former Penn Central RR units; MEC 350, ex-CR 3266, nee PC 3266 built in 5/69, and MEC 352, ex-CR 3268, nee PC 3268, built in 5/69, both now sporting the new colors as well. History has been kind to this rail line, and it is good to see freight still rolling along the Stony Brook, 165 years removed from her humble origins in northeastern Massachusetts.
Image recorded on February 16, 2013 by Ted Krug.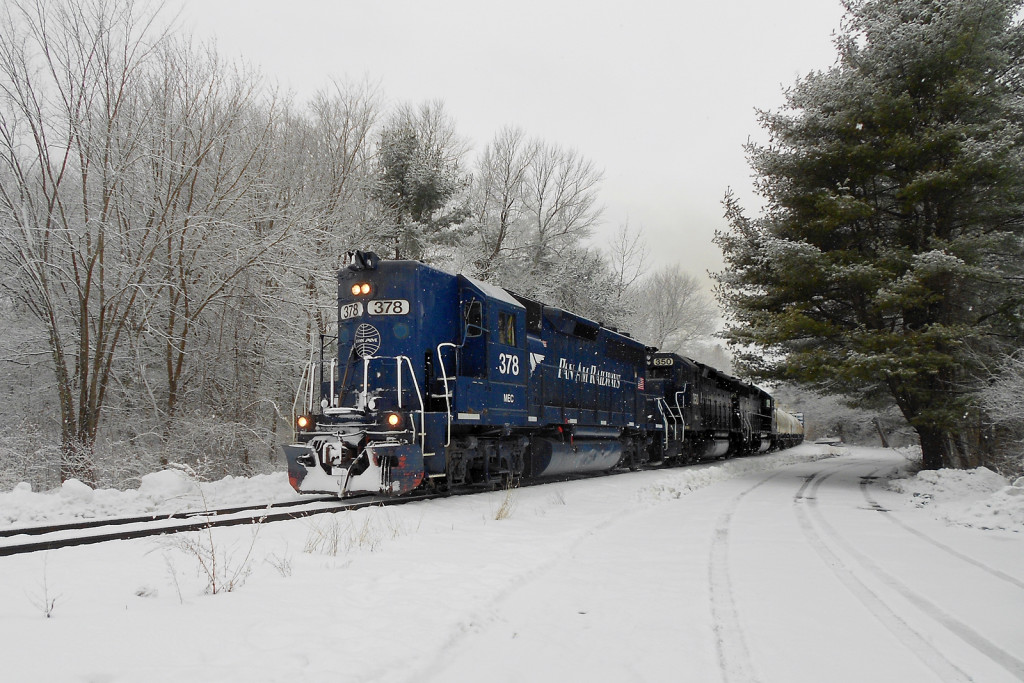 Click on the image to display it at a larger size. Use your browser's Back button to return to this page.