The weekend of November 10th, 2012, was a very special one, as the unmistakable sound of a steam whistle officially returned to Hunterdon County, NJ, after a 12 year hiatus. The Black River & Western Railroad threw a big "Welcome Back #60" party, and railfans (and fans in general) came out in the hundreds to celebrate the return of BRW 60 to active duty. Out of service since the year 2000, the hard working men & women of the BR&W completed the overhaul of the Alco 2-8-0 locomotive earlier this year, and several test runs in October proved that the steam program had indeed successfully completed its mission; plans could now be made for the triumphant event.
In this photo, which closely resembles a scene from the 1940's on what was originally the South Branch of the Central RR of New Jersey, Sundays first excursion run finds the train heading south on the line, crossing the south branch of the Raritan River on the original CNJ truss bridge built over a century ago. During the CNJ days, both freight and passenger trains would interchange with the Pennsylvania RR at Flemington Jct., just 2 miles ahead. Freight does still move on the line, and passengers as well in the form of weekend excursion runs during the May-December operating season; it's good to see a line first built in the 1860's still viable these days, and it's good to see a 1937 product of Schenectady, NY, returning to work, as Alco intended. Welcome back, old friend!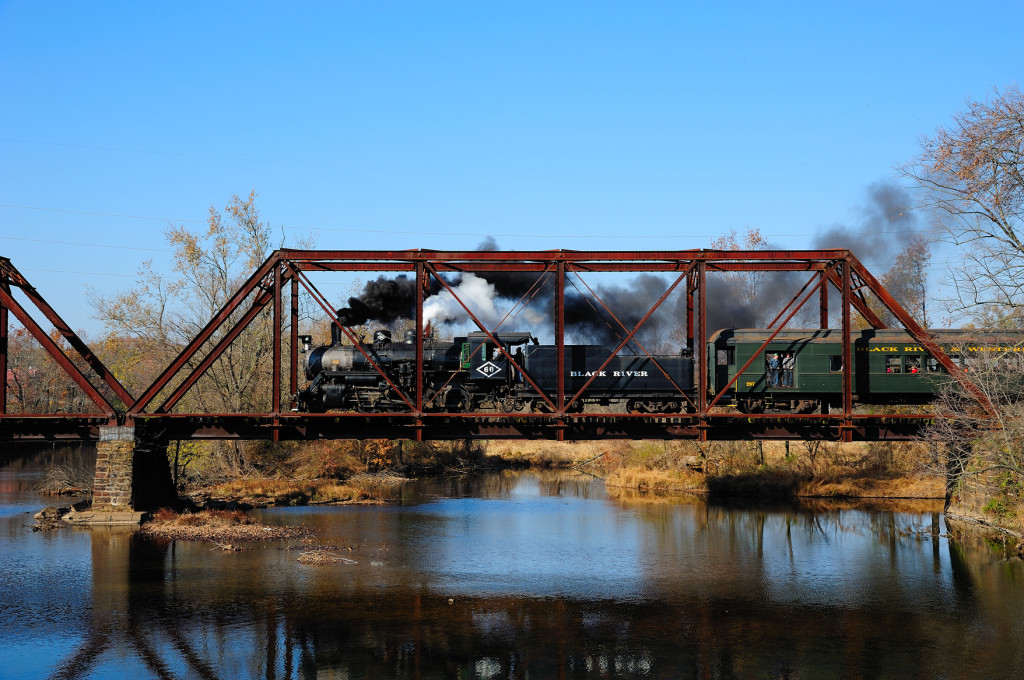 Image recorded on November 11, 2012
Click on the image to display it at a larger size. Use your browser's Back button to return to this page.