Railroads are famous for extending the life of their most reliable locomotive models, with engine shops performing rebuilds and upgrades to get thousands of additional miles from their investments. The most popular candidates are the EMD units of the late 20th century, some of whom are still working hard 40 and 50 years after they exited the assembly line. The massive Norfolk Southern facility in Altoona, Pa, known as the Juniata Back Shops, can handle any type of loco repair or overhaul that is needed. Many other railroads send their power to NS for work, due to the capabilities and resources of this location. In 2010, NS began a rebuild program for EMD SD60 locomotives, with 27 units completed as of this date. This program is an extensive overhaul, to include a new NS designed wide cab, replacing the standard 'narrow' cab that was originally incorporated.
NS 6905 began life as a conventional SD60, built for the Chicago & Northwestern Railroad as their #8040 in September of 1986. She went to work for Union Pacific as UP 5992 after the CNW merger, then soldiered on after being sold to rail lessor Helm Financial as HLCX 5992. NS purchased several units in 2009 from Helm, needing some dependable and fairly late-model locomotives to bolster their roster. The new wide cab is an attractive design, and nicely distinctive from the 'generic' lines of the hundreds of GE widecabs on the rails. In this scene, NS 6905 (now an SD60E) is seen slicing through the frigid New Jersey air, as she leads Atlanta, Ga to Secaucus, NJ intermodal train 212 eastbound on the Lehigh Line, climbing the small rise at MP 29. It's nice to have a new face in town, and the NS forces have indeed given this old unit a handsome makeover!
Image recorded on February 17, 2013.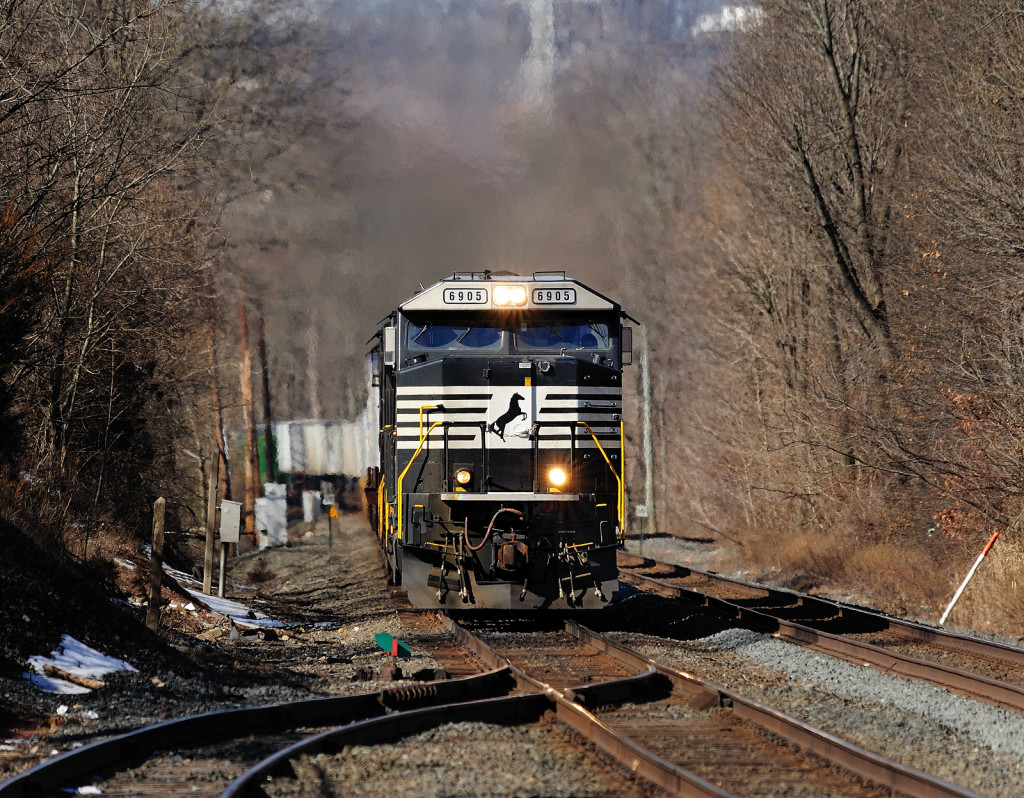 Click on the image to display it at a larger size. Use your browser's Back button to return to this page.