The railroads have always been a reliable source of transportation in inclement weather, and this day in Sayreville, NJ, is no different. The coastal mid-atlantic region gets a good amount of snowfall every few years; large specialized railroad snowplows are not required, and sometimes the snow level tests the equipment at hand. The original plan on this day was to have the Conrail SnowJet vehicle (a truck with a surplus jet engine mounted) run ahead of Conrail Browns Yard local SA-2 to clear the crossings and switches for the crew. This truck can melt snow away very quickly with the force of the warm air from the very loud jet engine; the only problem being the apparatus & truck do not weigh nearly enough to work well in every situation. Due to the 12-14 inch snowfall the previous day, the CR SnowJet derailed more than once on the Bordentown Ave. grade crossing while attempting to lead the SA-2 westward out of the yard. It was then decided to let the locomotive go it alone, with much more favorable results.
Here, CSX 4431 (ex-Conrail 3356, blt 3/79) leads a short two car train west on the Gillespie Branch, dashing through the snow that conceals the rails on a frigid winter day. Between the weather & the long wait for the mow equipment to clear, it is no doubt that the crew is looking forward to a warm evening at home.
Image recorded on January 28, 2011.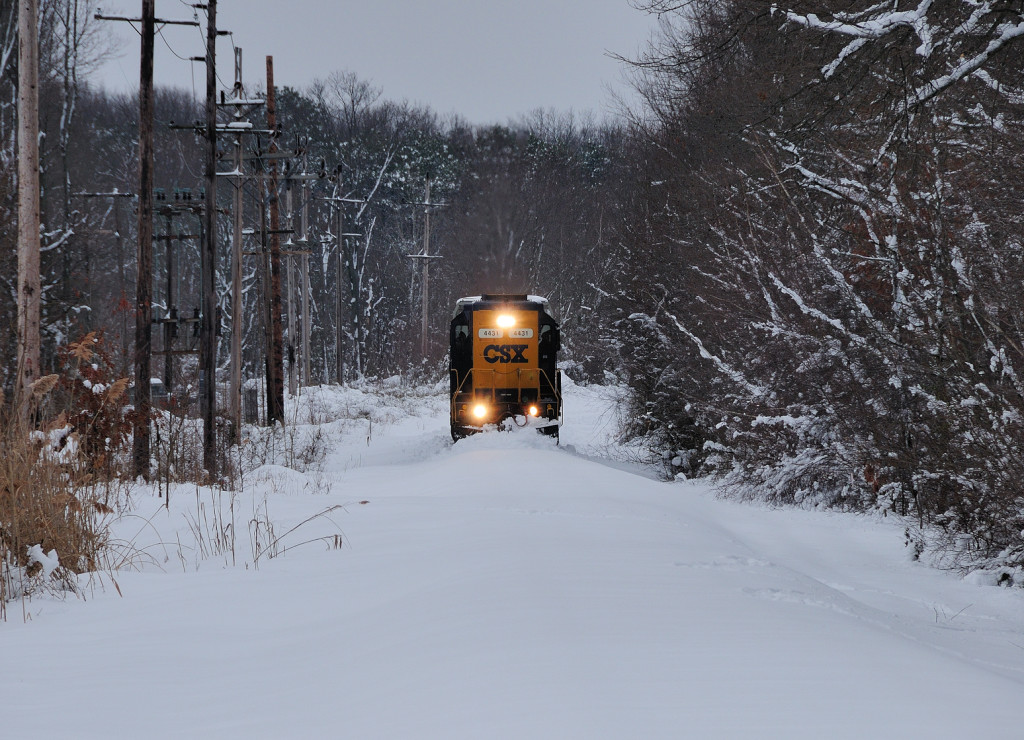 Click on the image to display it at a larger size. Use your browser's Back button to return to this page.