We all want that perfectly lit, sunny shot with deep blue skies overhead, but sometimes one has to 'throw caution to the wind' and use their instincts for a non-perfect, but still interesting photo. The light in Piscataway, NJ, along the Conrail Shared Assets portion of the Lehigh Line is best for eastbounds in the morning, and many fantastic pictures have been captured here over the years. As such, this photographer tends to not bother with westbound trains with the sun behind them, choosing to conserve precious megapixels for better oppurtunities. However, on this day, a crazy idea danced around in my head…what if I turned & shot westbound NS train 11J as it headed towards me, 'away' from the sun in this location?? Nope, I thought, it will be a poor shot, and I'll just push the delete button again and wonder why I did that. But…what if it works?
No way, it's just a waste of time.
So, literally on impulse, I quickly spin the thumbwheel to adjust the exposure, turned, pointed & fired. 'Click' goes the shutter, and just like that it's over; oh, my, what have I done? I know better than to do that, what was I thinking? This can't be good, can it?
Here for your viewing pleasure is an up close & personal view of NS C40-8W 8389 leading the empty autoracks of train 11J, westbound on the Lehigh Line, MP29. Perfect? No, but quite interesting, and honestly much nicer than I had anticipated. Once in awhile you have to go with your gut, and just point and shoot.
Image recorded on October 18, 2012.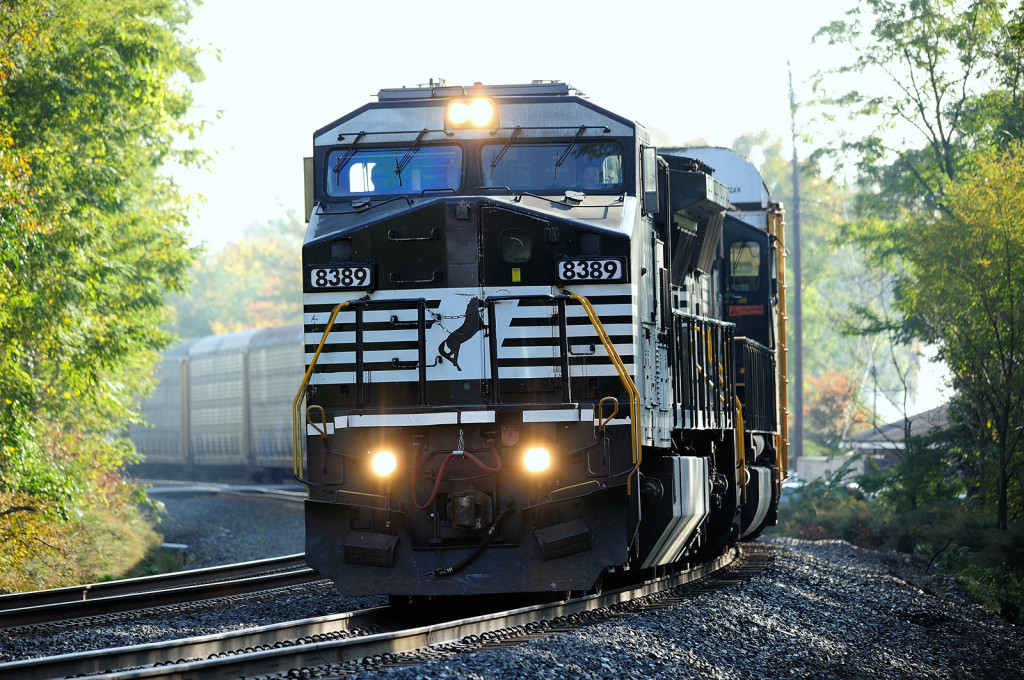 Click on the image to display it at a larger size. Use your browser's Back button to return to this page.