Red Bank, NJ, is a cool little town, and has had rail service since 1855 or so, when the Raritan & Delaware Bay (the second railroad in the state, after the Camden & Amboy) began surveying  here. The Central Railroad of New Jersey eventually assumed control of the line, and Red Bank would become the northern point on the CNJ Southern Division mainline, which extended to the Bridgton area in extreme southern NJ. After Conrail reorganized the railroads of the northeast in 1976, this route was cut in half, with the northern portion running from Red Bank to Lakehurst, and the railroad abandoned from Lakehurst to Winslow Junction (except for a 13 mile stretch under private ownership from Lakehurst to Woodmansie). The northern portion of line is still active today as the Conrail Southern Secondary, although trains presently only go as far as South Lakewood, served by the once-weekly Conrail Shared Assets Operations local SA-31. The crew is seen here strolling through the south end of Red Bank, crossing Newman Springs Road & approaching MP 39; business has been good lately, with trains of 10-15 cars on many trips, but the train today consists of only 3 cars for two customers on the line. Hopefully this is just a brief winter slowdown, and traffic levels will return to normal soon.
Image recorded January 22, 2015.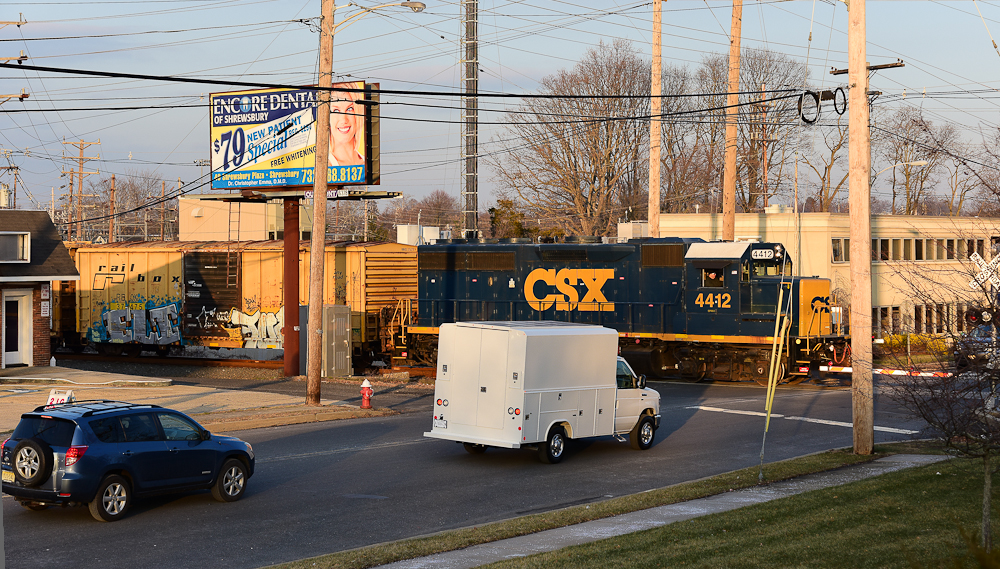 Click on the image to display it at a larger size. Use your browser's Back button to return to this page.