It's hard to find two locomotives built for the Erie Lackawanna Railroad still in daily use, but it is a common occurence in central New Jersey. Although now de-rated to 3000 horsepower after being rebuilt to SD40-2 specs, these November, 1972 products of GM's Electro Motive Division still retain their as-built carbodies, and will always be an 'SD45-2' to me. With newer road units hauling the freight out on the mainline, these older six-axle locomotives are perfect for the lower speed transfer runs for which they are utilized, mainly due to their tremendous tractive effort and power. There are presently 6 ex-El units lurking in central/northern NJ, operating out of the Oak Island terminal, and the daily Oak Island transfer to Port Reading Yard and Browns Yard will almost always have at least one of the SD45-2's on the head-end, and as many as three! In the scene below, we see the daily OI-16 (frequently classified as JR-2 on Mondays) southbound on the Chemical Coast Secondary after working Pt. Reading Yard, with NS 1702 (ex-CR 6659, nee-EL 3674, blt 11/72) and CSX 8886 (ex-CR 6661,nee-EL 3676, blt 11/72) in the lead. The conductor gives a friendly wave to the flagman at MP18.5, after confirming by radio that it was safe to pass through the area, with local utility work being done trackside. In another 2 miles, the crew will enter the New Jersey Transit North Jersey Coast Line at CP WOOD for the short jump across the Raritan River; they will then access the Amboy Secondary at SA Tower and head 6 miles west to Browns Yard in Sayreville for the last set-off. These old girls are still together after all these years, and hopefully will be around for many years to come.
Image recorded on August 7, 2010.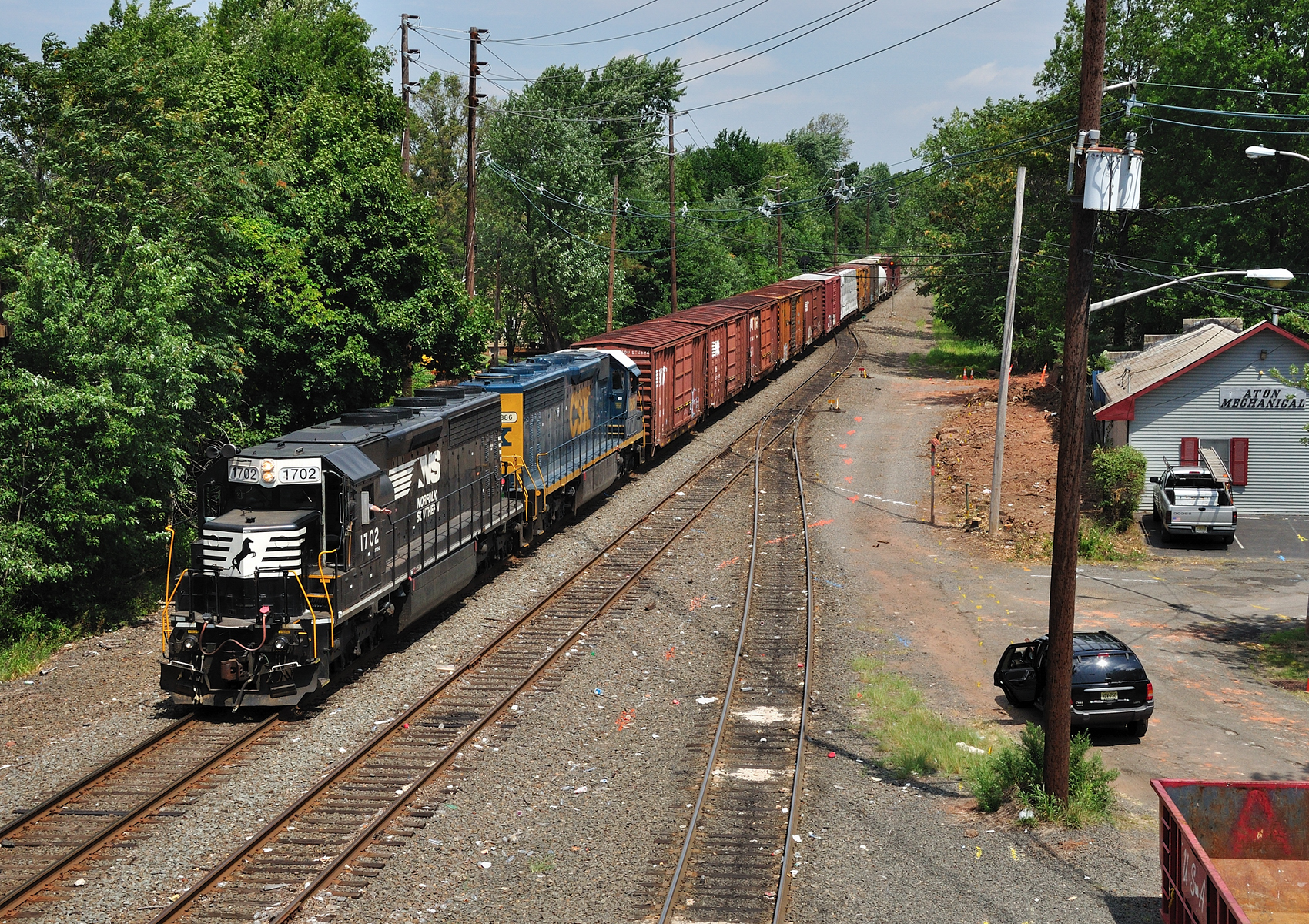 Click on the image to display it at a larger size. Use your browsers Back button to return to this page.