Some might say that there are too many pictures of EMD SD45-2 locomotives on this website, but considering the rarity of this particular model in the US, I say "Bah, humbug"!
With only 136 units ever produced (although Southern Pacific/SSW received 247 of a variation of this model, the SD45T-2), the sight of two of these monsters coupled together in 2010 is an image worth recording, especially in New Jersey. The only northeast railroad to order this model was the Erie Lackwanna Railroad, with 13 units built in late 1972 at the famed General Motors ElectroMotive Division plant in LaGrange, Illinois.
After the Conrail split-up of 1999, Norfolk Southern acquired six of the ex-EL SD45-2's, and they are frequently seen on Conrail Shared Assets trackage, both in northern NJ, and also in southern NJ, operating out of Camden's Pavonia Yard; NS 1703 is ex-CR 6662, nee-EL 3677, built 11/72, and trailing unit NS 1700 is ex-CR 6654, nee-EL 3669, built 11/72. On a beautiful spring day in May, 2010, we see southbound Conrail Shared Assets train OI-16 at the 'Hess' crossovers, approaching CP-PD on the CSAO Chemical Coast Secondary, about to make a set-out at Port Reading Yard.
Even though these locomotives were rebuilt to SD40-2 specs during their time on Conrail, 38 years on the rails is a long time in RR years, and before long these veterans will become a distant memory, so let us enjoy them while we can.
Image recorded May 5, 2010.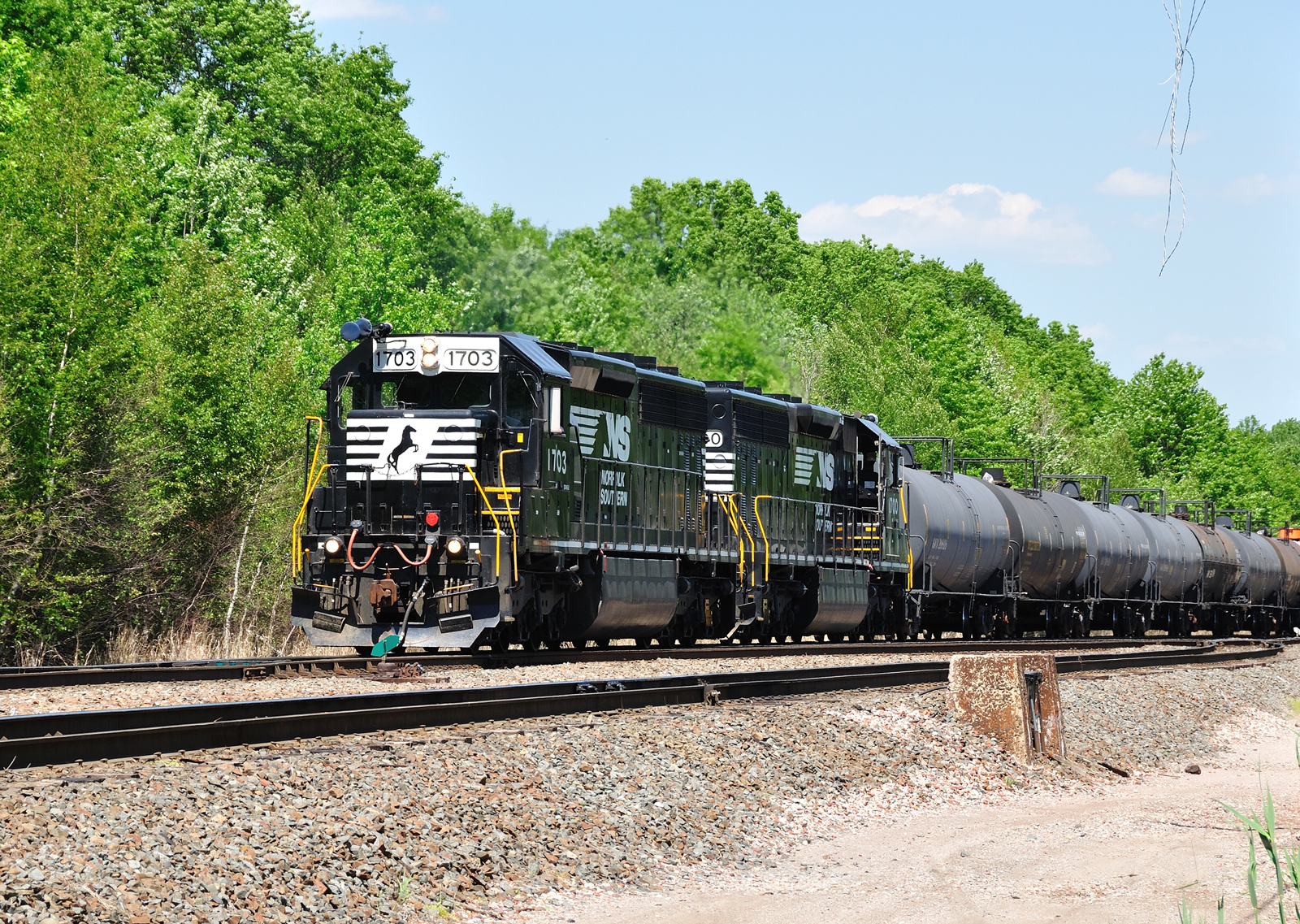 Click on the image to display it at a larger size. Use your browser's Back button to return to this page.