In the year 1854, the Flemington Transportation Company built trackage from Flemington to Lambertville, NJ, where it connected with the mighty Pennsylvania Railroad on its Phillipsburg to Trenton main line to interchange mainly agricultural freight (milk products, fruits, meat products). In 1871, the line became part of the Pennsy system, and in the years before the automobile, some 50 passenger trains traveled to and from Flemington each day, in addition to the freight movements. The Central Railroad of New Jersey also recognized Flemington and the surrounding Hunterdon County area as a potential for expansion, and built its own line west from Somerville in the late 1800s; Flemington was now sitting pretty, with two rail lines into town, and the area prospered. However, with cars & trucks becoming more popular as the 20th century took shape, the general public abandoned the trains for more 'personal' methods of transportation, and passenger service was halted on this line in 1953; with trucks becoming an option for shippers, freight service decreased substantially as well. In the late 1950s, a certain Mr. William Whitehead desired to start a tourist line, running excursion trains for the general public, and made an agreement with the Pennsylvania RR to lease the Flemington to Lambertville line to run his trains. In May, 1965, the first tourist train was successfully run, and in March, 1970, the Black River & Western purchased the line from the newly established Penn Central RR, and now handled both passenger excursion and freight duties along the route. On April 1, 1976, the newly formed Conrail closed the ex-PRR Bel-Del line that ran through Lambertville, and at the same time, sold the Flemington to Three Bridges section of the old CNJ to the BR&W, establishing an interchange at Three Bridges, NJ. The rest is history, and today the BR&W continues to hold its own, a true shortline success story with a rich and colorful past, with a handful of full-time employees, and several very dedicated volunteers, ensuring efficient rail operations into the 21st century. Yes, indeed, the old station sure looks good for being 158 years young.
Image recorded on May 28, 2011.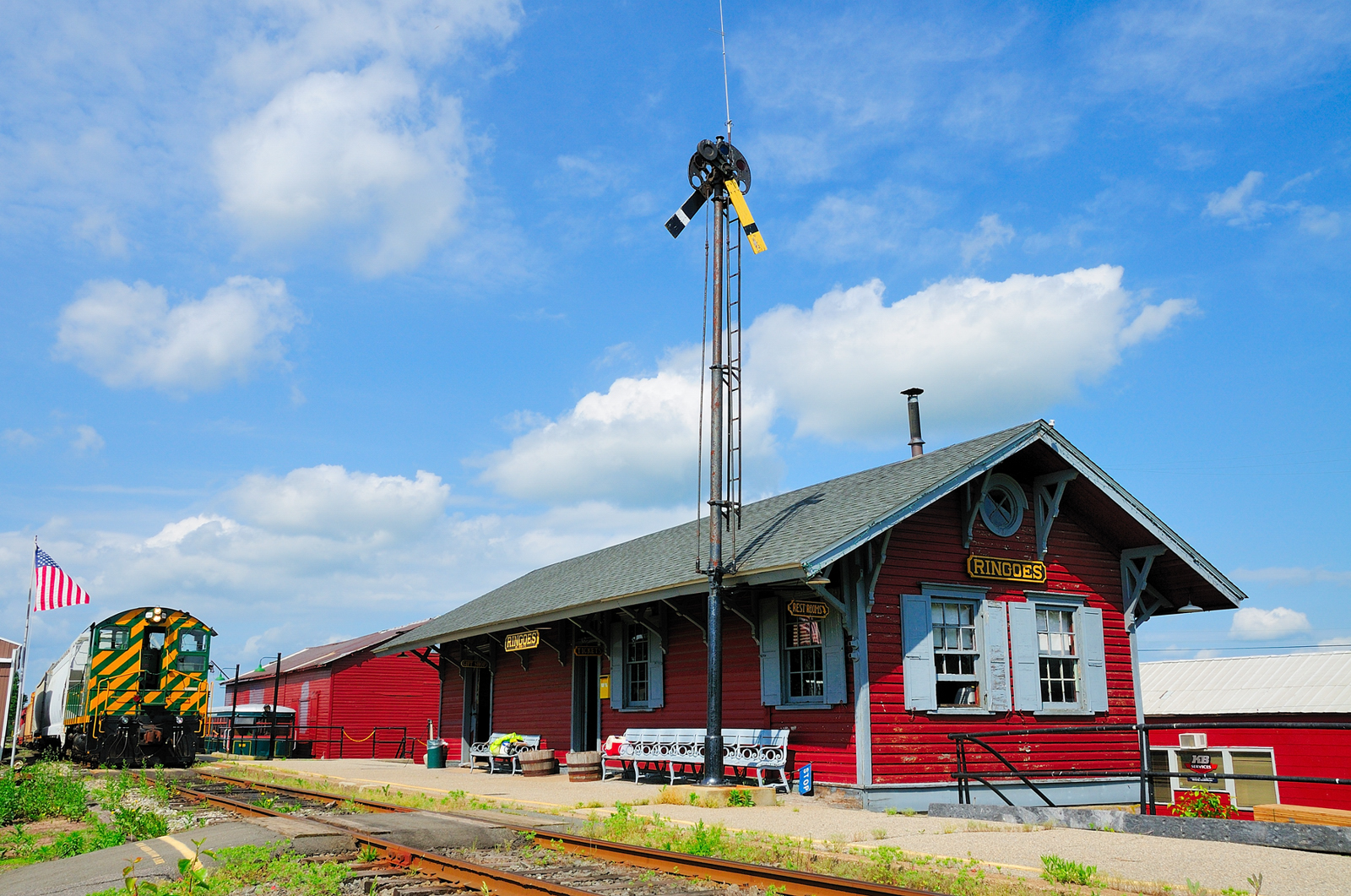 Click on the image to display it at a larger size. Use your browser's Back button to return to this page.