Well, sometimes things work out perfectly, and sometimes things just work out, but with a consolation prize. I knew that the NS New York Central heritage unit (NS 1066) was in Allentown yard, and I knew that road power is frequently used on Allentown-based locals, so I made the 90 minute drive to see how good (or bad) my luck was on this given day. Fortunately, I did catch the NYC unit in Bethlehem, but under very cloudy, early morning skies. OK, I thought, not bad, but far from perfect, so I hung around (knowing that Allentown can produce a nice surprise at any given moment). Finally, the clouds depart, and the game is on to get the best possible photograph in this very scenic area before I begin the trek back to the Jersey Shore.
Using the best 2-way radio technology available (this day, a Kenwood NX-700) to my advantage, I hear the dispatcher give permission to NS train 38G,  "UP Eight Three Four Nine", to double their train at the west end of Allentown yard, not knowing that there was any other foreign power in the area. Rear wheels spinning, I make a beeline to Emmaus, a few miles west of Allentown, to a spot where I've shot from before, and where the midday light would work in my favor. I present to you my 'Consolation Prize' for the trip, Norfolk Southern Allentown, Pa. to Camden, NJ train 38G with Union Pacific EMD power in the form of SD70ACe 8349 and SD70M 4799 up front, with NS 9319 (GE C40-9W) assisting. Thanks to the reports from the internet, and a little 'just plain dumb luck', the day turned out better than I had expected, and the drive home went just a bit quicker than most.
Image recorded December 28, 2013.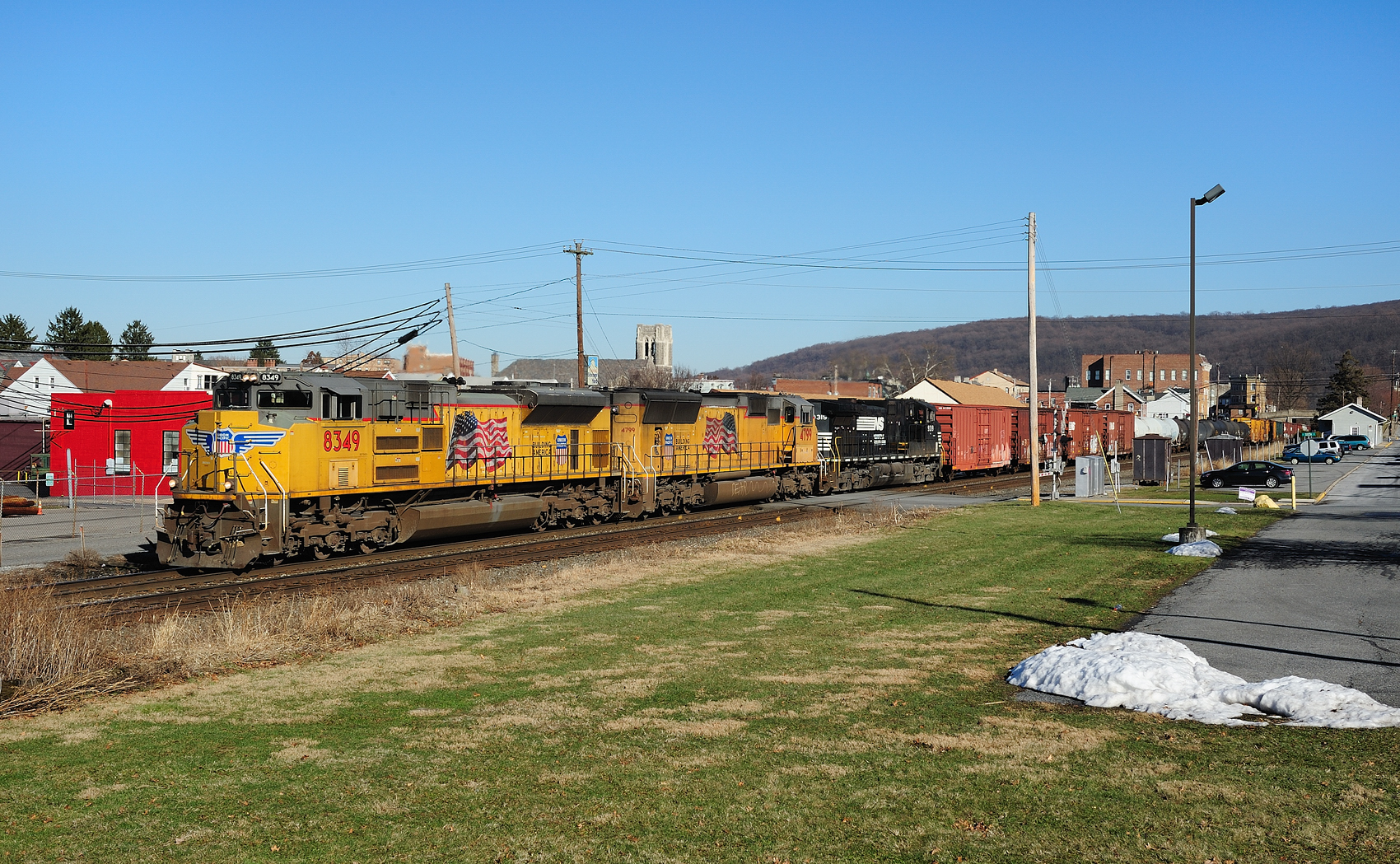 Click on the image to display it at a larger size. Use your browser's Back button to return to this page.