On the now 150 year old ex-CNJ Southern Division mainline, business had dwindled to a customer or two in the late 20th century. Things did not look good for this once proud high iron to southern New Jersey as recently as 2009, but, as everyone knows, there is nothing constant but change. Conrail Shared Assets Operations local SA-31 has operated on this line since Conrail proper assumed rights from the CNJ in 1976, and the line has seen hard times in the last decade & a half. With change rearing its 'positive' head, for a change, the current Southern Secondary has seen a significant increase in traffic in 2014, much to the delight of the local economy, and to local railfans as well.
The weekly Thursday afternoon runs have seen trains of 12+ cars for the past year, compared to runs of 1 to 5 or 6 cars previously. This days consist had 17 cars, with 14 lumber loads destined for the lines largest customer, Woodhaven Lumber in Lakewood, as well as 2 empty gondolas for loading at Brick Recycling, another 'once dormant, now active again' business in Howell, NJ, and one boxcar full of brick products for Extech Building Materials. The Extech  (formerly Atlantic Building Supply) siding, pictured here, had lain dormant for several years, but started receiving inbound loads again back in 2011, and has been a regular drill since then. Conrail Shared Assets crew SA-31 is seen here spotting the loaded car on the Extech siding, after having pulled the empty boxcar just moments ago. With the continued business from Extech, and the new business from Brick Recycling, just a half-mile north of here, the future looks bright for the Southern Secondary, almost forgotten about just a few years ago.
Image recorded October 30, 2014.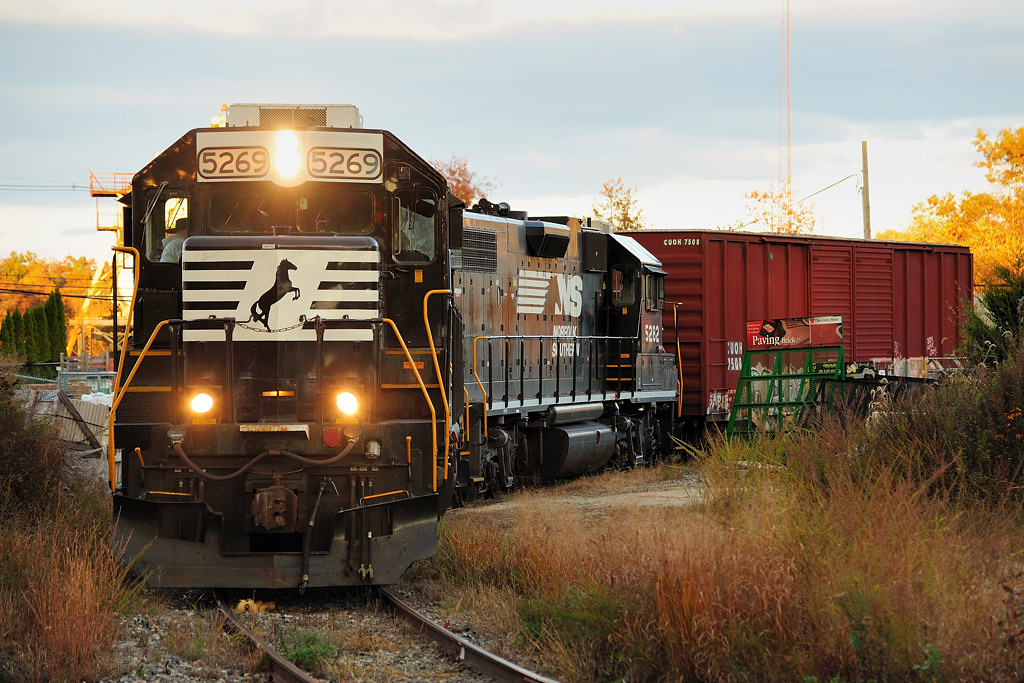 Click on the image to display it at a larger size. Use your Browsers Back button to return to this page.