It's not easy getting to Lakewood, NJ, by rail these days, but it can still be done;  in fact, it's done 52 times a year (barring a major weather event) by a Conrail Shared Assets Operations local based out of Sayreville, NJ. With line abandonments prevalent in the past 40 years due to the dwindling freight traffic in central New Jersey, the crew of train SA-31 must travel 6 miles east from Sayreville to South Amboy, where they will then enter the New Jersey Transit North Jersey Coast Line, when time and the numerous commuter trains occupying this important corridor will allow. Upon receiving permission from the NJT dispatcher, SA-31 will then travel south (timetable west) to Red Bank in about 35 minutes time (on a good day), and take the switch at the location of old BANK tower to enter the ex-Central Railroad of New Jersey Southern Division, now known as the Southern Secondary. Although the runaround track in south Lakewood is only 22 miles away, it will take the crew some 2 hours to get there, due to the 10mph speed limit they must endure as a result of track conditions on this little used line.
Here we see the train crossing the Navesink River under the catenary on the NJT 'Coast Line', as they enter Red Bank and prepare for the final leg of their journey to Lakewood. Even though Monmouth County is mostly residential in the 21st century, a good amont of the Southern Secondary runs 'through the woods' as it heads in a southwesterly direction towards Lakewood. An ex-Penn Central unit (GP38-2, ex-CR 8058, nee-PC 8058, blt 2/73) leads todays edition on yet another beautiful spring day in the northeast. No, 10 miles per hour is probably not fun for the crew, but superb weather should make it a bit more tolerable, as the conductor & engineer head for Ocean County's largest lumber yard to deliver their train, and then prepare to head back to the friendly confines of Browns Yard.
Image recorded April 5, 2012.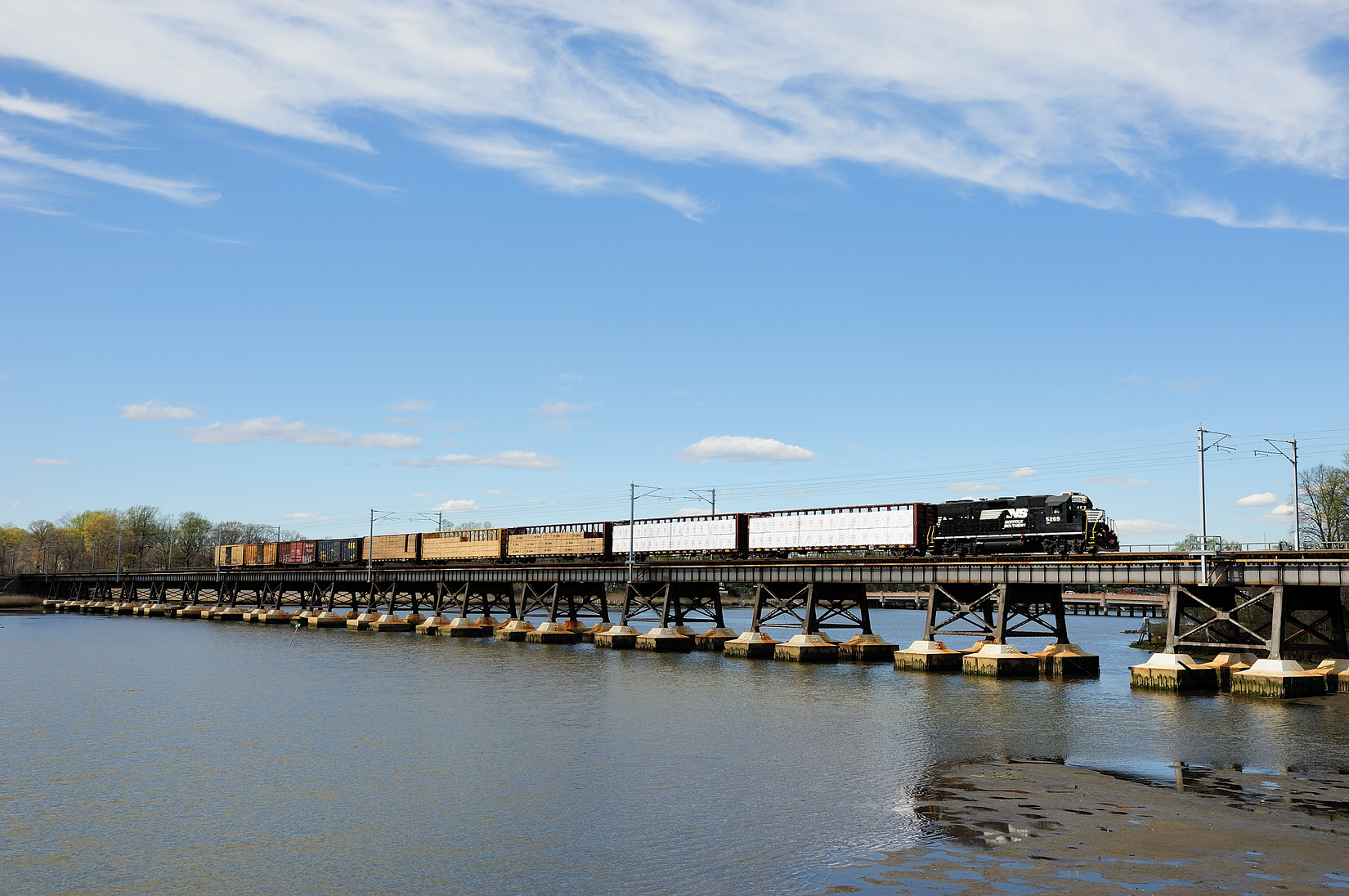 Click on the image to display it at a larger size. Use your browsers Back button to return to this page.