In 2012, Norfolk Southern decided to paint twenty of their newest locomotives in special 'Heritage' schemes, commemorating the original railroads that now make up the NS system. This action has brought a welcome splash of color to the NS mainlines, due to the very plain black paint with white lettering on the current fleet. Unfortunately, the state of New Jersey has experienced few sightings of these special units to date, but I suppose that will only build anticipation in the railfan community in the coming months. The people's opinion is unanimous; though incurring extra cost to design and paint these units, NS has created tremendous excitement and goodwill in the industry by recognizing and paying homage to the predecessor roads of years, and centuries, past.
The second Heritage unit to grace the rails of NJ (the Pennsylvania RR unit was the first) is seen entering the Conrail Shared Assets Operations Chemical Coast Secondary in Port Reading, NJ, on a warm & sunny July morning. Today's NS ethanol train 68Q features the colors of the Central of Georgia RR on NS 8101 (GE ES44AC, blt 2/12), and it is one of the more beautiful locomotives in the Heritage group. Her stay would be short; the ethanol trains, on average, spend less than 48 hours in the area, and she would be on her way west the very next day. With a lot of the newer power in coal train service in the southeast US, the fans in NJ welcome the few special visits that come our way, as evident by about a dozen enthusiasts at this location alone, and several dozen other admirers along the NS mainline in northern NJ. Bravo, NS; thank you for paying tribute to your heritage, and may we all say "job well done".
Image recorded July 24, 2012.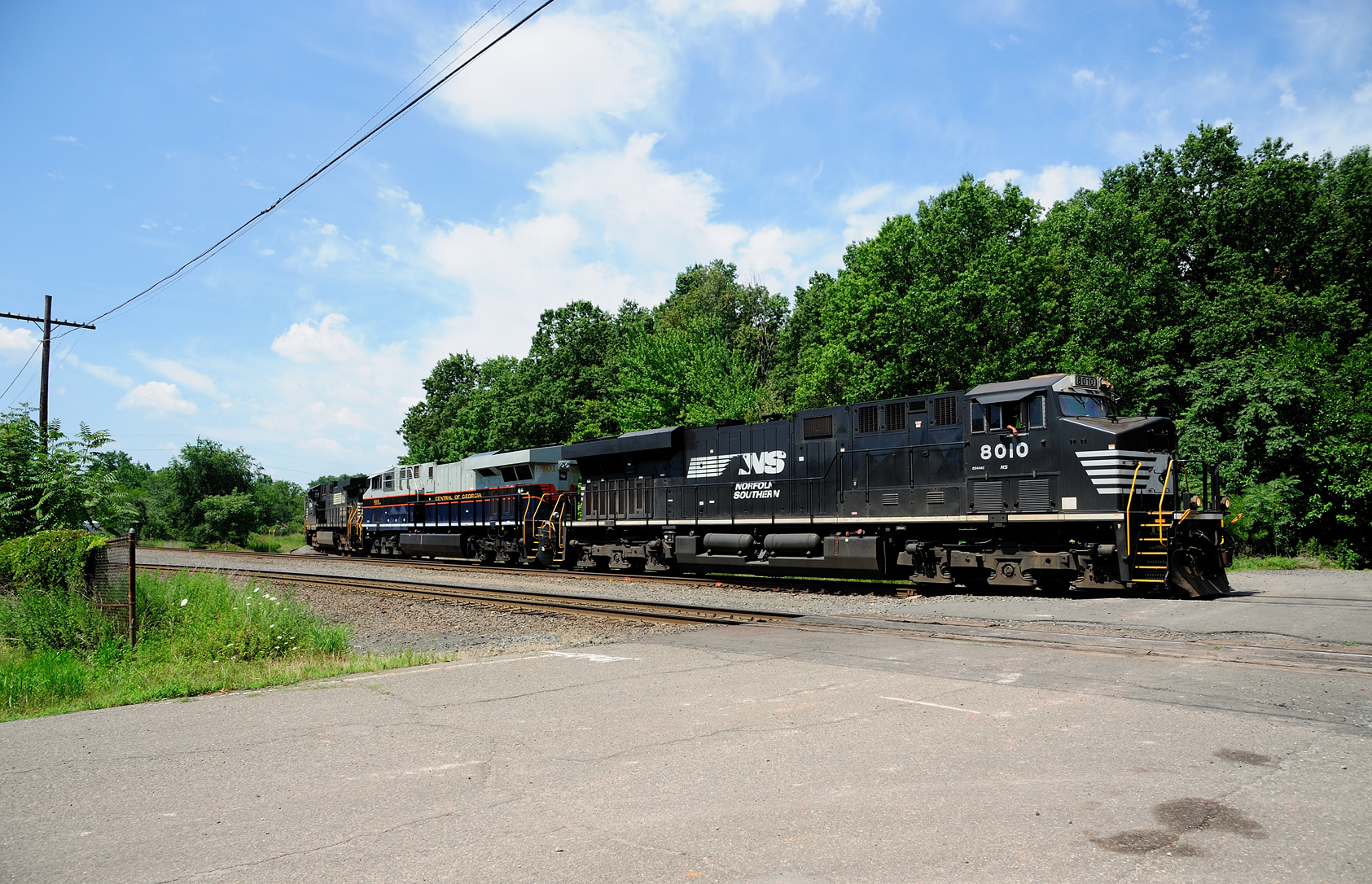 Click on the image to display it at a larger size. Use your browser's Back button to return to this page.