It is with great pleasure that I am able to share this photo with you. On October 29, 2012, Hurricane Sandy devastated the coastline of New Jersey, and severly damaged the NJ Transit system, with some of the worst destruction along the NJ Transit North Jersey Coast Line, nearly severing the line below Woodbridge, NJ. The Conrail Southern Secondary is the former Central RR of NJ Southern Division mainline, beginning at Red Bank, NJ, and currently terminating in South Lakewood, NJ, with only a few customers along the line. Because the NJT trackage was out of service between Woodbridge and Red Bank, and no way to get freight from Browns Yard in Sayreville to Red Bank, the Southern was effectively disconnected from the outside world after the storm. With a nearly super-human effort from the NJT maintenance-of-way forces, the Coast line was opened for limited service just 10 days later, and operations would slowly regain normalcy over the ensuing weeks. Fortunately, because it is several miles west of the coast, the Southern sustained very little damage, and would survive yet another threat from Mother Nature.
In a view at sunset, we find Conrail Shared Assets Operations weekly local SA-31, with CSX GP40-2 4429 (ex-Conrail 3346, blt 3/79) working her way through the Borough of Shrewsbury, as she does every Thursday afternoon. There is only 1 regular customer on this 23 mile line, along with 2 others that see infrequent service, so to see a train on these rails that date back to the late 1850's is a nice sight, and to see a train on a line that has experienced greatly diminished business and two Hurricanes in the past 2 years, and is still in service, is a wonderful occasion. Helping to 'Restore The Shore', it is good to see the railroads once again playing an important role, this time bringing much needed building materials to central Jersey for the restoration process.
Image recorded on December 13, 2012.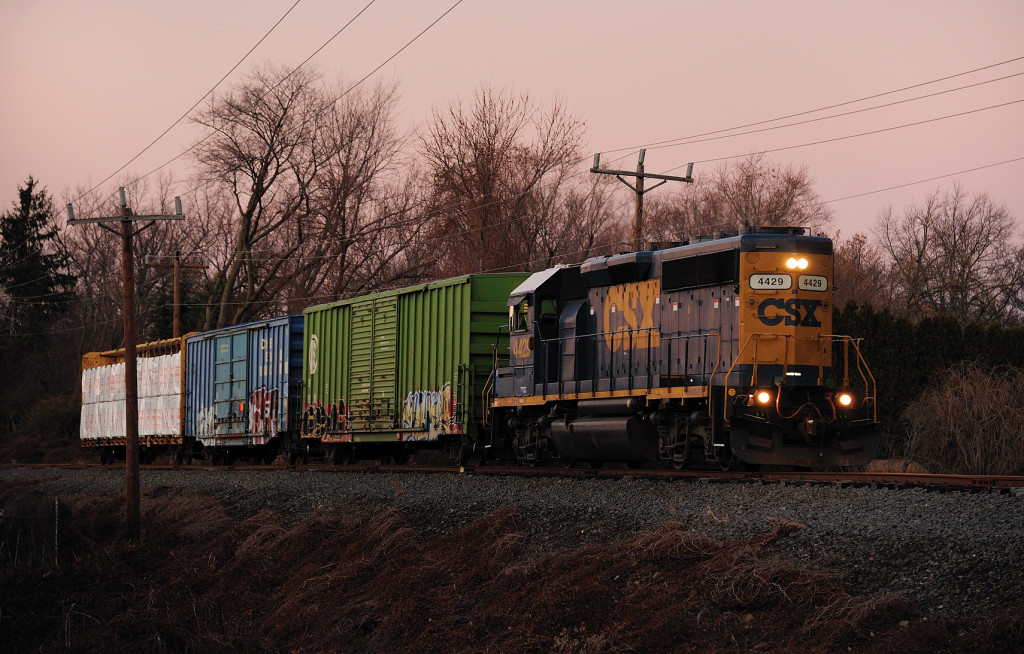 Click on the image to display it at a larger size. Use your browser's Back button to return to this page.